Indianapolis, Indiana – Attorneys for Plaintiff, Closure Systems International, Inc. ("CSI") of Indianapolis, Indiana, filed suit in the Southern District of Indiana seeking a correction in inventorship for two U.S. Design Patents issued to Defendant, Novembal USA Inc. ("Novembal") of Edison, New Jersey. The patents at issue in this case are United States Patent Nos. D836,442 (the "'442 Patent") and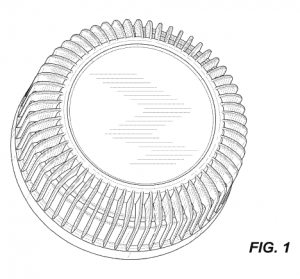 D838,171 (the "'171 Patent") (collectively the "Patents in Suit"). CSI is seeking preliminary and/or permanent injunctions, attorneys' fees, costs, and any other relief the Court deems proper.
CSI claims three of its employees, Arnold Benecke, Bill Moll, and John Edie, developed a closure for a bottle (the "Option 2 Closure") for its customer, Nestle Waters ("Nestle") on or about January 27, 2011. This invention was allegedly assigned to CSI pursuant to assignments from the three inventors. According to the Complaint, on March 9, 2011, CSI sent a presentation concerning the Option 2 Closure and another option to Nestle that stated that it would have "Prototypes molded by April 1" and "Small quantity of slit samples will be sent by April 13". CSI claims it emailed Nestle a drawing of the Option 2 Closure on March 10, 2011.
CSI claims Nestle trialed different closures from CSI and at least two other competitors, including Novembal, and CSI delivered 100 samples of the Option 2 Closure to Nestle in or about June 2011. CSI alleges each of the manufacturers at the Nestle trials witnessed each closure and saw all the samples provided to Nestle. After the trials, Nestle awarded the business to Novembal, not CSI.
According to the Complaint, Nestle asked CSI to replace Novembal and inquired as to its ability to supply the Option 2 Closure in early 2018. CSI claims it began supplying a similar closure to the Option 2 Closure to Nestle, but it was slightly different (the "New Closure"). On or about May 24, 2019, CSI claims it was informed by Nestle that the New Closure infringed one or more Novembal patents. Just six days later, Novembal allegedly sent a cease and desist letter to CSI stating that the New Closure infringed the '442 Patent.