Terre Haute, Indiana – Dshay Towles was charged with theft and "offense against intellectual property" for selling on eBay stolen copies of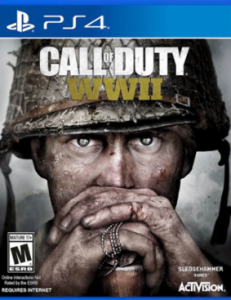 Call of Duty: WWII, which is scheduled to be released on November 3, 2017.
According to FOX59, the games were stolen from the Sony DADC facility in Terre Haute, where the company manufactures and distributes Blu-Rays, CDs, and DVDs. The games were later found on eBay, having been posted by Towles for roughly $45 per copy.
The variety of trade secrets and patents involved in a game like Call of Duty prevents others from selling or recreating the game without authorization. Indiana codified "Offense against Intellectual Property" at IC-35-43-1-7. Among the provisions, the statute states, "A person who knowingly or intentionally and who without authorization…discloses or takes data, a computer program, or supporting documentation that is a trade secret…and that resides or exists internally or externally on a computer, computer system, or computer network, commits an offense against intellectual property."