The Plaintiff, Lifetime Industries, Inc. (doing business as Boyd Corp.) had filed a patent infringement lawsuit in the Northern District of Indiana alleging that Defendant, Trim-Lok, Inc infringed patent no. 6,966,590, Two-Part Seal For A Slide-Out Room, which has been issued by the US Patent Office. The Court of Appeals for the Federal Circuit reversed the District Court's dismissal and remanded back to the district for further proceedings.
Plaintiff owns the patent to a two-part seal for slide-out rooms in RVs. The seal prevents moisture, debris, and air drafts from entering the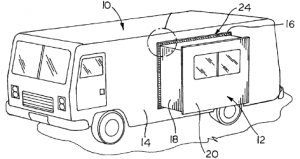 vehicle. Soon after two employees left Lifetime to work at Trim-Lok, a representative of Lifetime found an allegedly infringing Trim-Lok seal installed on a third party RV. Plaintiff alleged direct, indirect, and contributory infringement on the part of Trim-Lok, based on claims that Trim-Lok directly installed the seal, or supervised installation of the seal, or influenced the RV company to install the seal on their vehicles. The district court dismissed each claim, stating that Lifetime had not adequately argued the allegations.
The Federal Circuit reversed the District Court and found that the claims for direct, indirect, and
contributory infringement were adequately pleaded, and should have survived a motion to dismiss. Specifically, because Lifetime alleged that Trim-Lok allegedly installed the seal and created an infringing "seal-RV combination," the argument for direct infringement was sufficient to survive a motion to dismiss.
The case was assigned to Circuit Judges Lourie, Moore and O'Malley in the United States Court of Appeals for the Federal Circuit and assigned Case 2017-1096.