Fort Wayne, Indiana – Attorneys for Plaintiff, Rieke LLC of Auburn, Indiana, filed suit in the Northern District of Indiana alleging that Defendant, Technocraft Industries India Ltd. ("Technocraft") of India but allegedly doing business in this District, infringed its rights in United States Patent No. 8,292,133 ("the '133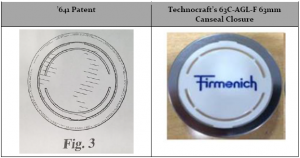 Patent") for "Vented Closure Assembly for a Container", Patent No. D608,641 ("the '641 Patent") for "Closure for a Container With Retaining Ring", and Patent No. D610,007 ("the '007 Patent) for "Closure for a Container With Retaining Ring". Rieke is seeking preliminary and permanent injunctions, compensatory damages, punitive damages, treble damages, attorneys' fees, costs, and pre and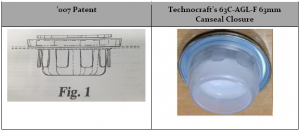 post judgment interest.
Rieke claims its product being infringed in this case, the Flexspout II, which is an "anti-glugging pouring dispenser with a removable cap that can be crimped on to drums, barrels, or other containers", is so unique it has three patents covering the invention. According to the complaint, Technocraft's Managing Director, Sharad Kumar Saraf ("Saraf"), visits the U.S. frequently to attend trade shows and solicit customers and business partners. Rieke alleges Saraf attended a trade show in April 2018 at which he inspected the Flexspout II sample, asked questions about its patent protection, and that he was informed by Rieke's representative that it would "protect its innovations and defend itself if Technocraft copied Rieke's innovative designs."
According to the complaint, Technocraft makes and offers for sale a foreign-made version of the product to Rieke's U.S. customers at a much lower price than Rieke offers. After discovering Technocraft's allegedly infringing actions, Rieke reached out to Saraf by phone and through a follow up cease and desist letter. Technocraft, according to Rieke, refuses to fully comply with the requests in Rieke's letter and did not provide Rieke with all of the information requested. As such, Rieke filed suit seeking damages for the infringement of the '133 Patent, the '641 Patent, and the '007 Patent.
The case was assigned to District Judge Holly A. Brady and Magistrate Judge Susan L. Collins in the Northern District and assigned Case 1:19-cv-00282-HAB-SLC.