Fort Wayne, Indiana – Attorneys for Plaintiff, North American Van Lines, Inc. ("NAVL") of Fort Wayne, Indiana, filed suit in the Northern District of Indiana alleging that Defendant, Kettering Moving and Storage, Inc. ("Kettering") of Dayton, Ohio, infringed its United States Trademark Registrations.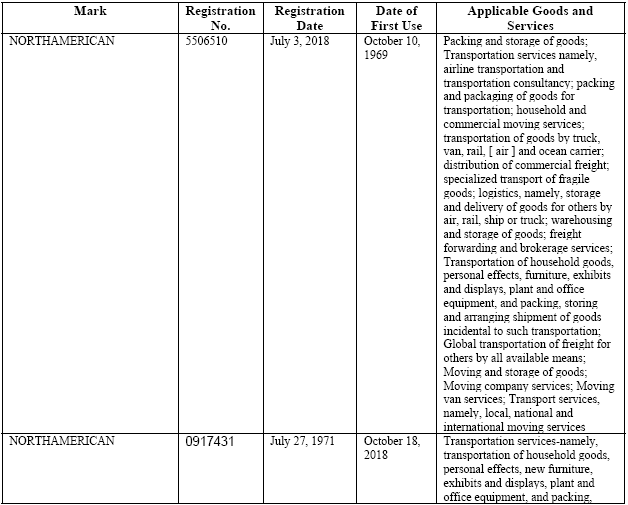 NAVL is seeking preliminary and permanent injunctions, profits, actual damages, costs and attorney's fees, investigatory fees, and further relief the court deems appropriate.
NAVL claims it has been providing transportation services since 1933 and has been using the marks NORTH AMERICAN and NORTH AMERICAN VAN LINES in connection with those services for many years. According to the complaint, there are seven registered marks at issue in this case. NAVL claims it has licensed companies to act as NAVL Agents including the right to use NAVL's registered marks, but it has been careful in limiting such licensing activities. NAVL asserts that through its use of its registered marks and the control it maintained in their use through licensing agreements, the registered marks have acquired a secondary meaning.
Per the complaint, Kettering provides moving and storage services throughout the world. NAVL claims it had an agency contract with Kettering prior to July 24, 2018 in which Kettering was allowed to use NAVL's registered marks. However, NAVL asserts that it terminated that relationship through a letter sent to Kettering on July 24, 2018. After being informed Kettering was still utilizing NAVL's registered marks, NAVL claims it informed Kettering to cease and desist on February 28, 2019. NAVL claims Kettering disregarded this cease and desist and continues to display NAVL's registered marks on its vehicles and signs.
NAVL is claiming infringement of its registered marks pursuant to 15 U.S.C. § 1114 with damages under 15 U.S.C. § 1117. Second, NAVL is seeking damages for false designation and origin and unfair competition pursuant to 15 U.S.C. § 1125(a). Next, NAVL is seeking damages pursuant to its agency agreement with Kettering for breach of contract. NAVL is claiming Kettering's unauthorized use of its registered marks constitutes unfair competition under the common law of Indiana. Finally, NAVL is claiming deception, conversion, and theft under the Indiana Crime Victim's Relief Act, Ind. Code § 35-24-3-1.
The case was assigned to Judge Holly A. Brady and Magistrate Judge Susan L. Collins in the Northern District and assigned Case 1:19-cv-00262-HAB-SLC.