Indianapolis, Indiana – Attorneys for Plaintiff, Engineered by Schildmeier, LLC of Anderson, Indiana, filed suit in the Southern District of Indiana alleging that Defendants, Amazing Parts Warehouse (d/b/a several different names) of Lexington, Kentucky, and Wuhn Xuelang Auto Parts Co., Ltd. of China, infringed its rights in United States Patent No. D 816,584 ("the '584 Patent") for a "Pair of Bed Rail Stake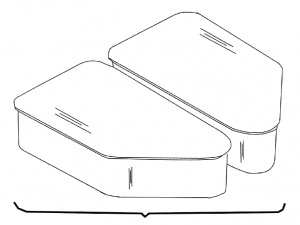 Pocket Covers". Plaintiff is seeking judgment including damages, pre and post-judgment interests and costs.
Plaintiff asserts that Defendants have been offering to sell products on Amazon, eBay, and other various sites since February 2018. Amazon has taken down the advertisements when shown the '584 Patent. After a bit of time, Amazing Parts Warehouse then re-advertises the same product under a different dba. Amazon removes the new advertisements as they are reported and the cycle repeats almost monthly. The advertisements on eBay have not been removed as eBay refuses to act on validity of patents without Court direction. Plaintiff continues to send Cease and Desist letters to Defendants through Amazon and eBay as well as contact with their websites and the U.S. Postal Service.
Count I of the Complaint asserts federal patent infringement as the Plaintiff's and Defendants' bed rail stake pocket covers are as they claim, not only identical, but substantially the same leading to customer confusion. Count II claims trade dress infringement in violation of Section 43(a) of the Lanham Act, 15 U.S.C. § 1125(a). The third count seeks declaratory judgment of both the design patent and trade dress validity. Next, Plaintiff seeks declaratory judgment of infringement and validity of trade dress. The final count asserts unfair competition under Indiana state law. Plaintiff claims that they have lost nearly $100,000 in lost profits since the Defendants began selling their counterfeit products in February and they continue to lose a minimum of $3,000 in profits per week.
The case was assigned to District Judge Richard L. Young and Magistrate Judge Mark J. Dinsmore in the Southern District and assigned Case 1:18-cv-03239-RLY-MJD.