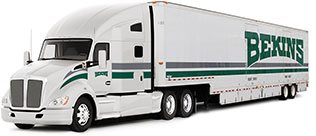 Indianapolis, Indiana – An Indiana trademark lawyer for Wheaton Van Lines, Inc. and Bekins Van Lines, Inc., both of Indianapolis, Indiana (collectively, "Bekins"), filed a trademark-infringement lawsuit in the Southern District of Indiana alleging that Faulk-Collier Moving & Storage, LLC and David Vaughn, both of Louisiana, infringed the trademark BEKINS®, which has been registered by the U.S. Trademark Office as Trademark Registration No. 2427605.
Faulk-Collier, a moving-and-storage company in business since 1932, has been sued by Bekins for both trademark infringement and breach of contract. Bekins, which was founded in 1891, contends that it has made extensive use of the Bekins trademark, which it asserts has become both incontestable and famous. Bekins' uses, it states, include inclusion in all of Bekins' advertising materials, as well as being emblazoned on the side of all of the trucks, vans and trailers operating under Bekins' authority for over ten years. Bekins has also sued Vaughn for more than $73,000, alleging that he personally guaranteed payment to Bekins.
In its Indiana trademark complaint, Bekins states that, in February 2014, it entered into an agreement with Faulk-Collier under which Faulk-Collier would serve as an interstate household agent for Bekins. Bekins further claims that, due to uncured breaches of that agreement by Faulk-Collier, Bekins terminated the arrangement in October 2014. After terminating the agreement, Bekins advised Defendants that they must cease all use of logos and trademarks owned by Bekins, including the removal of the Bekins trademark from all advertising, trucks, equipment, websites, and similar.
Nonetheless, contends Bekins, Faulk-Collier has continued to advertise moving services under the name "Bekins." The accused uses include advertising on social media as well as operating numerous pieces of equipment in interstate commerce which bear one or more trademarks owned by Bekins. Bekins states that these uses by Faulk-Collier are unauthorized.
This federal lawsuit followed. In its complaint, filed by an Indiana trademark attorney, Bekins asserts the following:
• Count I – Breach of Contract
• Count II – Account Stated
• Count III – Federal Trademark Infringement

• Count IV – Federal and State Unfair Competition/Trademark Dilution
Bekins asks the court to enter preliminary and permanent injunctions; award Bekins monetary damages, statutory and otherwise, and punitive damages; and order Defendants to pay Bekins' attorneys' fees and costs.
The case was assigned to Judge Tanya Walton Pratt and Magistrate Judge Debra McVicker Lynch in the Southern District of Indiana and assigned Case No. 1:15-cv-00556-TWP-DML.