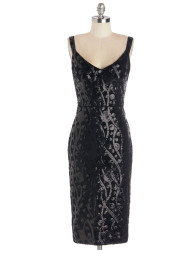 Indianapolis, Indiana – An Indiana trademark attorney for Bettie Page, LLC of Indianapolis, Indiana ("BPL") sued in the Southern District of Indiana alleging that Vibes Base Enterprises, Inc. of El Monte, California ("Vibes Base") committed unfair competition under federal, California and Indiana common law. BPL has asked the court for the cancellation of a federal trademark registration belonging to Vibes Base.
BLP claims that it is the exclusive owner of the name, likeness, voice, right of publicity and endorsement, worldwide trademarks, copyrights and other intellectual property related to the late model Bettie Page. Among its intellectual property holdings are trademark registrations for BETTIE PAGE, trademark numbers 2,868,613 and 2,868,614 which have been registered by the U.S. Patent and Trademark Office.
Vibes Base develops, manufactures and markets lines of apparel products and accessories under various brand names, including "Bette Paige." In May 1999, Sand K. Inc. obtained federal trademark registration number 2,244,182 for the mark BETTE PAIGE for women's clothing. Sand assigned that mark to Vibes Base in 2011.
In March 2014, BPL filed a federal trademark application for the BETTIE PAGE trademark for "computerized on-line retail store services in the field of clothing…" and similar uses. The USPTO refused registration of this trademark on the grounds that a likelihood of confusion existed between BETTIE PAGE, for which Plaintiff had applied, and the trademark BETTE PAIGE, which had previously been registered.
Plaintiff contends that the registration and/or use of the BETTE PAIGE trademark is an illegal use of the Page intellectual property, including the right of publicity.
In this complaint, filed by an Indiana trademark lawyer, the following counts are asserted:
• Count I: Unfair Competition Under 15 U.S.C. §1125(A)
• Count II: Unfair Competition Under Cal. Bus. & Prof. Code §17200 et seq.
• Count III: Common Law Unfair Competition
• Count IV: Unjust Enrichment
• Count V: Right of Publicity Infringement Under Cal. Civ. Code §3344.1
• Count VI: Request for Declaratory Judgment of No Trademark Infringement
• Count VII: Declaration that Defendant's Registration is Invalid (Non Compliance with 15 U.S.C. §1052(c))
• Count VIII: Declaration that Defendant's Registration is Invalid (False Designation of Origin, Sponsorship or Endorsement)
BPL asks the court to cancel Vibes Base's BETTE PAIGE trademark; for an award of actual damages; for treble damages for willful and/or intentional use of an unauthorized trademark; for an award of attorneys' fees and expenses; to order Vibes Base to destroy or surrender to BPL all unauthorized products, including all products that Vibes Base is able to recall; and, in the alternative, to declare that BPL's trademark, as contained in its trademark application, is not confusingly similar to the BETTE PAIGE trademark.
The suit was filed by Theodore J. Minch of Sovich Minch, LLP.  The case was assigned to Judge Sarah Evans Barker and Magistrate Judge Mark J. Dinsmore in the Southern District of Indiana and assigned Case No. 1:14-cv-02052-SEB-MJD.