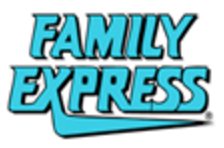 Hammond, Indiana – Trademark lawyers for Plaintiff Family Express Corporation of Valparaiso, Indiana filed a complaint for declaratory judgment of non-infringement and trademark cancellation in the Northern District of Indiana.
The Defendant in this litigation is Square Donuts Inc., which has stores in Terre Haute, Indianapolis, Bloomington and Richmond, Indiana. Defendant owns two registered federal trademarks: SQUARE DONUTS, Trademark Reg. No.4341135 for "café services," and "SQUARE DONUTS" & Design, Trademark Reg. No. 4341136 for "retail bakery shops." It also holds an Indiana State trademark for the mark "Square Donuts, Inc." Both Plaintiff and Defendant sell donuts.
The dispute arose in 2006, when a trademark attorney for Defendant Square Donuts sent a letter to Plaintiff Family Express accusing it of "making square donuts and marketing the same under the name 'Square Donuts,'" which it asserted was a violation of Defendant's trademark rights. Legal counsel for Family Express responded that there was no trademark infringement, as "square donuts" was merely descriptive and, thus, could not be registered as a trademark without a showing of acquired distinctiveness. Family Express' trademark lawyer also noted that the trademark in question was not registered with the U.S. Patent and Trademark Office but rather with the State of Indiana.
Ten years later, the dispute remains unresolved. Square Donuts, Inc. has acquired two federal trademarks and continues to express its concerns about Plaintiff's use of "square donuts" in the marketing its donut products. Plaintiff proposed a co-existence agreement but the notion of such an agreement was rejected.
In January 2016, the U.S. Patent and Trademark Office refused to register Family Express's "SQUARE DONUTS" mark, Application No. 86779997, in Class 030 for "donuts" and in Class 035 for "retail convenience stores" on the grounds of likely confusion with Defendant's preexisting trademark registrations for "SQUARE DONUTS."
In this litigation, Plaintiff Family Express seeks the following from the court:
• Count I: Declaration of Non-Infringement

• Count II: Cancellation
Case No. 2:16-cv-00103 has not yet been assigned.