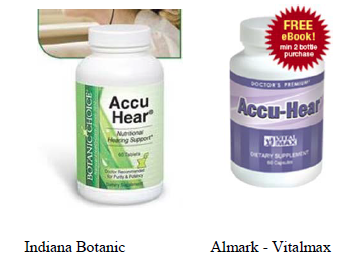 Hammond, Indiana – Plaintiff Indiana Botanic Gardens, Inc. of Hobart, Indiana filed a trademark infringement lawsuit in the Northern District of Indiana alleging that Almark Products, Inc. d/b/a VitalMax Vitamins ("VitalMax") of Delray Beach, Florida infringed its trademarked "ACCU HEAR", U.S. Trademark No. 3,010,289, which has been registered with the U.S. Patent and Trademark Office.
Indiana Botanic allege that it has been in the business of processing, packaging and otherwise selling variety of herbal products for many years. It contends that it has done so under the ACCU HEAR trademark, which has been registered for use in connection with dietary supplements.
In this trademark litigation, Indiana Botanic accuses Defendant VitalMax of production, labeling, sale and offering for sale of a nutritional supplement offered under the name ACCU-HEAR. This term, Indiana Botanic states, is confusingly similar to Plaintiff's ACCU HEAR trademark and will irreparably harm Plaintiff by diminishing the reputation and goodwill of that trademark. Indiana Botanic asserts that VitalMax infringed the ACCU HEAR trademark willfully and deliberately.
In this federal complaint, filed by a trademark attorney for Indiana Botanic, the following is alleged:
• Count I: Federal Trademark Infringement

• Count II: Unfair Competition Under Federal Law
The "Jurisdiction and Venue" section of this federal complaint lists additional claims – "state trademark infringement, injury to business reputation and dilution, deceptive trade practices, deceptive business practices and unfair competition under the laws of the State of Indiana" – but those claims were not included as separate counts.
Indiana Botanic seeks equitable relief along with damages, including punitive damages, costs and attorneys' fees.
The case was assigned to District Judge Joseph S. Van Bokkelen and Magistrate Judge Andrew P. Rodovich, in the Northern District of Indiana and assigned Case No. 2:15-cv-00457-JVB-APR.