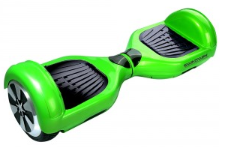 South Bend, Indiana – Indiana trademark attorneys for Plaintiff UL LLC of Northbrook, Illinois filed a lawsuit with the federal court in the Northern District of Indiana. Plaintiff alleges that Swagway, LLC and Jianqing "Johnny" Zhu infringed the "UL" trademark, Trademark Registration Nos. 2391140 and 782589, which have been registered by the U.S. Patent and Trademark Office. Plaintiff further claims that Defendants use the Service Mark "UL" in a manner that falsely suggests a relationship between Plaintiff and Defendants. Other causes of action, including claims under the state law of Illinois, are also asserted.
Plaintiff UL, founded in 1894, is a developer of safety standards. It also offers safety testing, inspection and certification of products. Plaintiff states in this federal lawsuit that it owns a family of trademarks featuring the UL mark, including a "UL-in-a-circle" certification mark and the UL service mark.
This lawsuit pertains to hoverboards (also known as self-balancing scooters or skateboards). Plaintiff states that hoverboards have been the subject to inquiries regarding safety. It also contends that Defendants have been sued on allegations that their hoverboard caught on fire and caused property damage.
In this trademark action, Plaintiff complains of Defendants' alleged improper use of the UL trademark and service mark on the hoverboards that Defendants make and sell. Additionally, Plaintiff contends that Defendants falsely stated that "Swagway also adheres to all required environmental standards and certifications," including UL certification. According to Plaintiff, Defendants' conduct was "intentional, unjustified and/or malicious, and done to purposefully harm Plaintiff."
This Indiana litigation, filed with the court by trademark lawyers for Plaintiff, lists the following:
• Count I: Federal Trademark Counterfeiting and Trademark Infringement (15 U.S.C. § 1114)
• Count II: Federal Unfair Competition – False Designation of Origin (15 U.S.C. § 1125)
• Count III: Federal Unfair Competition – False Advertising (15 U.S.C. § 1125)
• Count IV: Violation of the Illinois Deceptive Trade Practices Act (815 ILCS 510/1 et seq.)

• Count V: Violation of the Illinois Consumer Fraud and Deceptive Business Practices Act (815 ILCS 505/1 et seq.)
Plaintiff seeks equitable and other relief along with damages, including punitive damages, costs and attorney's fees.
The case is in the Northern District of Indiana and assigned Case No. 3:16-cv-00075 and has not yet been assigned.