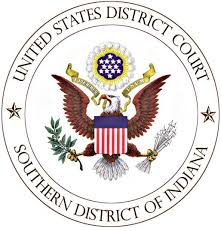 Indianapolis, Indiana – Matthew P. Brookman was sworn in as a Magistrate Judge in the U.S. District Court for the Southern District of Indiana earlier this month.
Judge Bookman was previously employed by the Office of the United States Attorney for the Southern District of Indiana. In 2010, he received the Director's Award from United States Attorney General Eric Holder for superior performance for his work in the prosecution of United States v. Jarvis Brown, et al., a quadruple homicide. Judge Brookman's early career included the private practice of law as well as government positions in Missouri.
Judge Brookman received his law degree from Washington University School of Law in 1993 and spent the beginning part of his career in private practice and working for the government in Missouri.
In addition to his judicial duties, Judge Brookman currently serves as an adjunct professor at the University of Evansville and has previously taught at the University of Southern Indiana, the U.S. Department of Justice National Advocacy Center, and the Southwest Indiana Law Enforcement Academy.
He fills the vacancy created by the retirement of William G. Hussmann.