Evansville, Indiana – An Indiana trademark attorney for Plaintiff Kimball International, Inc. ("Kimball") of Jasper, Indiana filed an intellectual property lawsuit in the Southern District of Indiana.
Defendant COA, Inc. d/b/a Coaster Company of America ("Coaster") of Santa Fe Springs, California is accused of infringing Kimball's Trademark KIMBALL, Reg. No. 1,180,193, which has been registered with the U.S. Patent and Trademark Office, by using the trademark without authorization.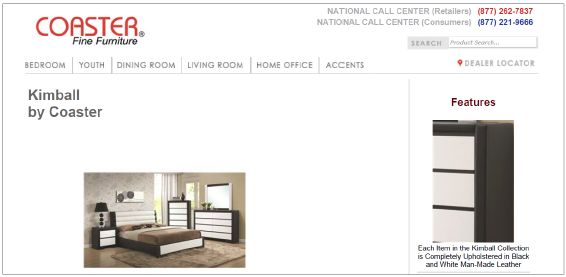 In addition to direct trademark infringement, Kimball asserts counts of contributory trademark infringement, false designation of origin, unfair competition arising under the Lanham Act as well as violations of the statutes and common law of the State of Indiana.
In particular, Kimball asserts that some of Coaster's retail partners have infringed the KIMBALL trademark at Coaster's behest, including retail giant Sears. As an example of this alleged contributory infringement, Kimball cites Bradley Home Furnishings' website, which Kimball states features an unauthorized "Kimball Bedroom Collection" that originated from Defendant Coaster: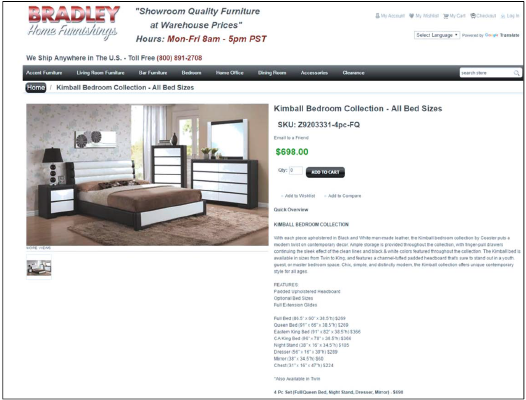 Kimball indicates in the complaint that it first informed Defendant less than a month before this lawsuit was filed that it believed it held superior rights to the KIMBALL trademark but states that Coaster "continues its unlawful use of the KIMBALL Mark and continues to encourage, induce, and materially contribute to its retail partners' unlawful use of the KIMBALL Mark."
In this litigation, filed by an Indiana trademark lawyer for Kimball, the following counts are alleged:
• Count I: Infringement of Federally Registered Marks – 15 U.S.C. § 1114
• Count II: False Designation of Origin – 15 U.S.C. § 1125(a)
• Count III: Contributory Trademark Infringement
• Count IV: Common Law Unfair Competition
• Count V: Deception – Indiana Code § 35-43-5-3(a)(6)
• Count VI: Conversion – Indiana Code § 35-43-4-3

• Count VII: Indiana Crime Victim's Relief Act – Indiana Code § 35-24-3-1
Among other remedies, Kimball seeks equitable relief, actual and treble damages, costs and attorneys' fees.
The case was assigned to Chief Judge Richard L. Young and Magistrate Judge Matthew P. Brookman, in the Southern District of Indiana and assigned Case 3:16-cv-00054-RLY-MPB.