Indianapolis, Indiana – The Indiana University-Purdue University Indianapolis Innovation-to-Enterprise Initiative, which supports faculty and students as they turn research and product development into profitable commercial ventures, is resulting in a sharp increase in inventions, patents and start-up business concepts.
The initiative was created to enable the campus community to reach its full potential in research commercialization and economic development, and to provide opportunities for students to learn about discovery, innovation and enterprise creation, while developing entrepreneurial and business skills.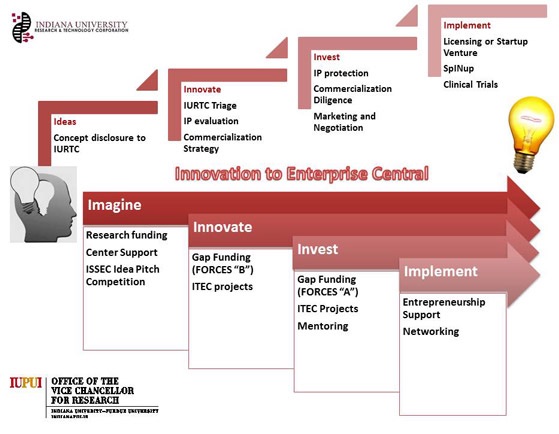 In 2013, IUPUI collaborated with almost 200 companies and organizations in developing over 500 student internships and community-engagement research and service projects supported by just under $1 million in direct and in-kind support from IUPUI and its community partners. A recent collaboration contributed to improving the quality of life and healthy habits on the Near Eastside of Indianapolis through the realization of 17 projects that addressed dental care, public health, urban produce gardens, fitness care and career development.
"The Innovation-to-Enterprise Initiative illustrates IUPUI's commitment to support our community by increasing research commercialization as well as student outreach," IUPUI Chancellor Charles R. Bantz said. "Through student, faculty and staff innovations and community engagement, we hope to help build a more successful Indiana."
Through this initiative – in collaboration with the IU Research and Technology Corp. – IUPUI has achieved significant growth in research commercialization, as demonstrated by the consistent increase in the intellectual property indicators over the past five years: In 2009, there were 98 invention disclosures, 98 patent applications, 20 technology licenses, three patents issued, and five start-up companies formed. By comparison, in 2013, invention disclosures more than doubled, to 199; patent applications saw an even larger increase, to 233; 31 technology licenses were issued; 16 patents were issued; and 15 start-up companies were formed.
The Innovation-to-Enterprise Initiative allows a multidisciplinary team of students to partner with mentors to learn about research commercialization and develop entrepreneurial and business skills. Mentors teach students research innovations and to explore opportunities for transformation to commercial enterprises. This and other student-centered experiential learning programs contribute to preparing the next generation of innovators and business leaders.
Practice Tip:
Certain patent fees are reduced by 50% to 75% for business qualifying for "small entity status." In March 2013 and again in January 2014, several additional patent-related fees for which no reduction had previously been offered were also lowered for small entities.
For entities qualifying as a "micro-entity," many of these fees are discounted even further.