Indianapolis, Ind. – Plaintiffs Cosco Management, Inc. ("Cosco")

and

Dorel Juvenile Group, Inc. ("Dorel") of Columbus, Ind. along with Ameriwood Industries, Inc. ("Ameriwood") of Wright City, Mo. filed a patent infringement suit alleging Wing Enterprises, Inc. ("Wing") and Wing Enterprises, Inc. d/b/a Little Giant Ladders ("Little Giant") of Springville, Utah have been infringing and continue to infringe certain claims of Patent No. 6,427,805 (the "'805 Patent"), entitled "Folding step stool," which has been issued by the U.S. Patent Office.

The plaintiffs assert that the defendants' Flip-N-Lite step ladder infringes upon various claims of its '805 patent.  That patent was issued in 2002 and was initially assigned to Cosco.  Cosco licensed the patent exclusively to Dorel which, in turn, assigned those exclusive rights to Ameriwood.

Plaintiffs state that both Wing and Little Giant, by their allegedly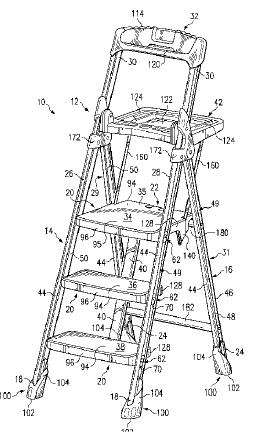 infringing activities, have caused Cosco, Dorel and Ameriwood irreparable harm for which there is no adequate remedy at law.  Plaintiffs assert that this conduct has been willful.
Plaintiffs ask for a permanent injunction against activity found to infringe the '805 patent, an order directing the destruction of all equipment used in the alleged infringement, damages up to triple the amount of the actual damages, costs and reasonable attorneys' fees.
Practice Tip: It is unclear why Wing Enterprises, Inc. is listed as a defendant twice – once as Wing Enterprises, Inc. and again as Little Giant Ladders, an assumed business name.  Various jurisdictions have held that it is acceptable to sue under an assumed name.  For example, under Texas case law, one can sue an individual under his real or assumed name if he has filed an assumed name certificate and conducts business under that assumed name.  See Employees Loan Co. v. Templeton, 109 S.W.2d 774, 778 (Tex. Civ. App. 1937).  However, listing one party twice, whether as a plaintiff or a defendant, is traditionally viewed as unnecessarily duplicative.
This case has been assigned to The Honorable Judge Jane E. Magnus-Stinson and Magistrate Judge Denise K. LaRue in the Southern District of Indiana, and assigned Case No. 1:13-cv-0414-JMS-DKL.
Complaint – Cosco v Wing Enterprises
Filed: March 12, 2013 as 1:2013cv00414 Updated: March 26, 2013 23:02:28
Plaintiffs: AMERIWOOD INDUSTRIES, INC., COSCO MANAGEMENT, INC. and DOREL JUVENILE GROUP, INC.
Defendant: WING ENTERPRISES, INC.
Cause Of Action: Patent Infringement
Court: Seventh Circuit > Indiana > Southern District Court
Type: Intellectual Property > Patent