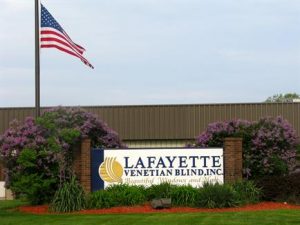 Lafayette, Indiana – The Plaintiff, Lafayette Venetian Blind, Inc., (LVB) conducts business under the business name "Lafayette Interior Fashions" in West Lafayette, Indiana. LVB is in the business of designing, manufacturing and selling window treatments, blinds and shades. LVB has a federal trademark registration, with the USPTO, for the word mark GENESIS under Registration No. 3344243 in Class 20 for "window blinds, window shades, and venetian blinds."
Defendants, Coulisse Distribution LLC and Coulisse Holding USA Inc. ("Coulisse"), are a Florida based company that sells Window Coverings and according to the Complaint sell a certain brand of window treatments and window components for their "Roller Blinds" product under the name "Genesis."  According to the Complaint, LVB has requested Coulisse cease and desist using the mark GENESIS on its products as it is likely to cause confusion with their products because the Infringing Marks are identical or nearly identical to their mark in sound, appearance and meaning.
Therefore, Plaintiff is seeking damages for willful trademark infringement in violation of 15 U.S.C. § 1114. Plaintiff also claims Defendants' actions amount to unfair competition, false designation of origin, in violation of 15 U.S.C. § 1125 and Trademark Infringement under Indiana Common Law. Plaintiff is requesting injunctions, declaratory relief, treble damages, ill-gotten profits, reasonable attorneys' fees, and the costs and expenses of the suit.
The case was assigned to Judge Philip P. Simon and Magistrate Judge Andrew Rodovich in the Northern District of Indiana and assigned Case No. 4:22-cv-00047-PPS-APR.