Indianapolis, Ind. – A trademark lawyer for American actor, minister, producer and writer Leon Isaac Kennedy of Burbank, Calif. sued alleging Lanham Act violations, unfair competition and

violations of various Indiana state statutes as a result of defendants' purchase of the domain name Leonisaackennedy.com.  The defendants are GoDaddy.com, LLC of Scottsdale, Ariz., Spirit Media of Phoenix, Ariz., Arthur Phoenix of Phoenix, Ariz. and John Does 1-5.
In a complaint for damages and injunctive relief, Kennedy alleges that the defendants have violated his intellectual p

roperty rights by purchasing a domain name consisting of Kennedy's first, middle and last name.  Spirit Media is the registrant and owner of the domain name.  Phoenix is also listed as a registrant.  GoDaddy is the current registrar. 
Kennedy claims that no content has ever been placed on the domain website and that the defendants have offered the domain name for sale for $5,000 at a domain auction.  He asserts that this "use of the Domain violates the "Anti Cybersquatting Piracy [sic] Act."
Kennedy asserts ownership of all interests in his name, image, likeness and voice ("Kennedy right of publicity") as well as other intellectual property rights such as trademarks, copyrights and rights of association as associated with the Kennedy right of publicity.  He alleges that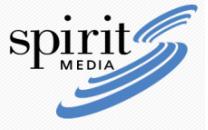 the purchase constitutes unauthorized and illegal commercial use and registration of a domain name and violates his personal and/or property rights.  He further claims that this commercial use has siphoned the goodwill from his various property interests and asserts that he has been irreparably harmed as a result.  
The complaint lists seven claims:
·         Count I: Violation of Section 1125 (a) of the Lanham Act
·         Count II: Violation of Section 1125 (d) of the Lanham Act
·         Count III: Unfair Competition
·         Count IV: Violation of Indiana Right of Publicity
·         Count V: Conversion (I.C. § 35-43-4-3)
·         Count VI: Deception I.C. § 35-43-5-3(a)(6)
·         Count VII: Indiana Crime Victims' Act I.C. § 35-24-3-1
Kennedy asks for the immediate transfer of the domain name to him; an injunction enjoining the defendants from future use of Kennedy's intellectual property; an order directing the immediate surrender of any materials featuring Kennedy's intellectual property; damages, including treble damages; costs and attorneys' fees.
This complaint, initially filed in an Indiana state court, was removed by GoDaddy to federal court.
Practice Tip #1: The Anticybersquatting Consumer Protection Act was enacted to create a cause of action for registering, trafficking in or using a domain name confusingly similar to, or dilutive of, a trademark or personal name.  Despite alleging malicious behavior on the part of all defendants, including GoDaddy, it will be tricky to pursue this count against GoDaddy, a domain-name registrar.  Under § 1125(d)(2)(D)(ii), the "domain name registrar or registry or other domain name authority shall not be liable for injunctive or monetary relief under this paragraph except in the case of bad faith or reckless disregard, which includes a willful failure to comply with any such court order." 
Practice Tip #2: I.C. §§ 35-43-4-3 and 35-43-5-3(a)(6) are criminal statutes, claimed in the complaint in conjunction with an attempt to parlay the accusation into an award for damages, costs and attorneys' fees.  The Indiana Court of Appeals has discussed "theft" and "conversion" as they pertain to takings of intellectual property in several recent cases (see, for example, here and here) and has made it clear that criminal statutes often apply differently to an unlawful taking of intellectual property.
Practice Tip #3: This complaint was submitted by Theodore Minch, who is, coincidentally, also the attorney for LeeWay Media, about which we blogged yesterday.  As with LeeWay, none of the parties seems to have much connection to Indiana.  It will be interesting as the case develops to analyze the rationale behind the decision to file in an Indiana court.

This case has been assigned to The Honorable Chief Judge Richard L. Young and Magistrate Judge Debra McVicker Lynch in the Southern District of Indiana, and assigned Case No. 1:13-cv-00876-RLY-DML.