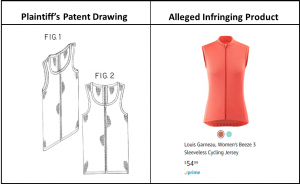 Hammond, Indiana – Apparently, James E. Cross, the Plaintiff is the owner of three design patents for convertible t-shirt designs, U.S. Patent Nos. D/580,633, D/581,136, and D/341,471 (collectively, the "Patents in Suit"). Notably, it appears the '633 and '136 Patents are set to expire in November 2022, while the '471 Patent expired in November 2007 since the term for a design patent filed prior to May 13, 2015 is 14 years.
Cross claims Defendants, Dick's Sporting Goods Inc., Walmart Inc., Kohl's Inc., and Amazon, Inc. (collectively "Defendants"), have actively induced and contributorily infringed upon the Patents in Suit and his trade dress by importing, offering for sale, and/or selling t-shirts with his ornamental designs without his permission.
While the pro se Complaint is fairly short, Cross attached numerous exhibits not discussed in the Complaint including an order dismissing Cross' case against Meijer, Inc. due to settlement and a Patent Trial and Appeal Board decision regarding the '471 Patent. Further attached are black and white photos of zip-up bike jerseys allegedly being sold by Defendants.
Cross is seeking an accounting of damages, costs, expenses, and reasonable attorney's fees pursuant to 35 U.S.C. § 285.
Practice Tip: The current design patent term, if filed on or after May 13, 2015 is 15 years from the date of grant. 35 U.S.C. § 173.
The case was assigned to Judge Philip P. Simon and Magistrate Judge Joshua P. Kolar in the Northern District of Indiana and assigned Case No. 2:21-cv-00198-PPS-JPK.