Indianapolis, Ind. – Patent attorneys for Novelty, Inc. of Greenfield, Ind.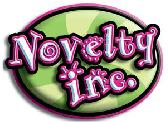 filed a declaratory judgment suit against Margaret Rothschild of Sherman Oaks, Calif. seeking a judgment that Novelty's "Mohawk Monkey" does not infringe Rothschild's Design Patent No. D501,897 (the "'897 Patent") which has been issued by the U.S. Patent Office.
Novelty specializes in the distribution and sale of toys and novelty items.  One of its products is a plush toy sold under the name "Mohawk Monkey."  Rothschild, via a patent attorney, contacted Novelty in March 2013 and asserted that the Mohawk Monkey infringed her patent.  She insisted that Novelty cease all sales of its Mohawk Monkey and demanded payment for damages caused by the alleged infringement.  Rothschild indicated that a refusal to comply would be met with vigorous litigation.
In its declaratory judgment action, filed in the Southern District of Indiana, Novelty asserts that its Mohawk Monkey is significantly different from the design claimed in Rothschild's '897 Patent and that an ordinary observer would not be deceived.  Novelty asks for a declaration that its Mohawk Monkey does not infringe the '897 Patent, a declaration that the Patent is unenforceable and/or invalid, a finding that the case is exceptional and, pursuant to that finding, an award to Novelty of its reasonable attorneys' fees.
Practice Tip: Design-patent litigation seems to be increasingly "fashionable."  The expected players, such as technology innovators, are seeking protection for their goods under design-patent protection as they traditionally have.  (See, e.g., Apple Inc. v. Samsung Electronics Co., Ltd.)  However, other less-traditional users of design patents are also beginning to see the value of a design patent in protecting their intellectual property.  For example, the fashion industry has historically found little use for design patents, as the time needed to obtain such a patent usually exceeds the relatively short lifespan of various fashions, which typically change season to season.  However, that is changing.  (See, for example, the dispute between Spanx and Yummie Tummie.)  In addition, as a result of the recent America Invents Act, individuals with grievances are no longer limited to filing suit; they can now also ask the Patent Office whether patents in dispute are valid.  The central provisions of the Act went into effect on March 16, 2013.
This case has been assigned to The Honorable Judge William T. Lawrence and Magistrate Judge Tim A. Baker in the Southern District of Indiana, and assigned Case No. 1:13-cv-497.
Complaint – Novelty v Rothschild
Filed: March 25, 2013 as 1:2013cv00497 Updated: March 25, 2013 23:40:18
Plaintiff: NOVELTY, INC.
Defendant: MARGARET ROTHSCHILD
Cause Of Action: Declaratory Judgement
Court: Seventh Circuit > Indiana > Southern District Court
Type: Intellectual Property > Patent