South Bend, Indiana – Indiana and Wisconsin patent attorneys for Phillip C. Ruehl of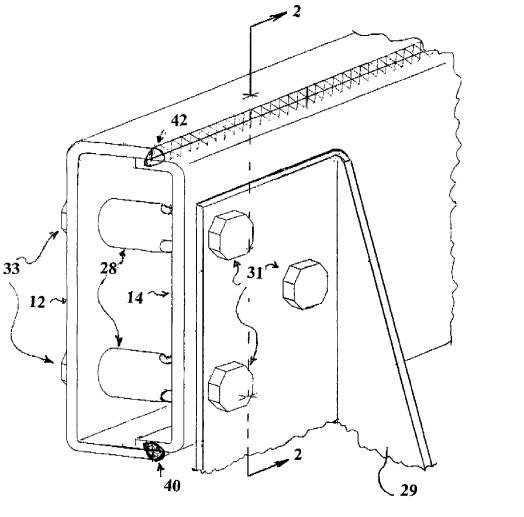 Wauwatosa, Wisconsin ("Ruehl") and PC Ruehl Engineering, Inc. of Wisconsin ("PC Ruehl") filed patent infringement litigation in the Northern District of Indiana alleging that AM General LLC of South Bend, Indiana infringed Boxed Frame Member and Method for Manufacture, Patent No. 8,484,930 B2 (the "'930 Patent"), which has been issued by the U.S. Patent Office.
From 1969 to 2001, Ruehl was employed as an automotive frame chassis engineer. In his various positions, including as a manager of product design, Ruehl's responsibilities included contributing to the designs of many light truck and sport utility vehicle frames.
Since the early 1980s, AM General has manufactured for the United States military, and eventually for the militaries of many other countries around the world, a High Mobility Multi-Purpose Wheeled Vehicle (or HMMWV, also known as the Humvee).
In November 2004, an employee of AM General allegedly contacted Ruehl to inquire if Ruehl was interested in consulting on a project to upgrade the frame rails for AM General's Humvee line of trucks. The employee described the frame rail project objectives to Ruehl and sent drawings to Ruehl showing the current side rail design.
From December 2004 through February 2005, Ruehl indicates that he studied the drawings and began to consider ways to meet AM General's objectives so that he could add value if and when AM General decided it wanted to retain him as a consultant. He contends that he was neither under contract with AM General nor was he being paid or otherwise compensated by AM General during this time.
Ruehl states in his complaint that he began to consider several potential solutions which he believed to be the most efficient means of solving the stated challenges. He sketched up many of these potential solutions so that he would remember each and be able to explain how he would proceed with each idea if he were asked. One of the new solutions Ruehl conceived of and sketched was a design that solved many of the unique dimensional and quality problems that AM General was experiencing with its current frame rail design (the "Invention").
AM General allegedly was never invoiced and never paid Ruehl for the work he did during this preparation period. Instead, Ruehl states that AM General specifically told him that the rail design program itself was tentative, and that if it did go forward, he would not be "on board" and under contract until he had met with representatives of AM General and signed additional documents at AM General's Michigan facility.
In February 2005, having allegedly already conceived of the Invention, PC Ruehl received from AM General a purchase order dated February 24, 2005 for "engineering support for HMMWV frame rail feasibility study." Under this purchase order, AM General asked Ruehl to provide engineering support for a feasibility study and stated that PC Ruehl would be paid $150 per hour for Ruehl's efforts. Ruehl signed the purchase order on behalf of PC Ruehl.
In March 2005, Ruehl drew a more detailed, presentable, and buildable sketch illustrating the Invention in its preferred embodiment, and had the owner of a Milwaukee-area prototype shop confirm its manufacturability, witness it, and agree to build a small "proof-of-concept" sample. Ruehl states that he did not bill, and was not paid by, AM General for this work.
Ruehl then brought the Invention to a meeting with AM General. Before beginning the substance of the meeting, Ruehl states that he (on behalf of PC Ruehl) and AM General signed a Mutual Confidentiality Agreement. This agreement provided that all confidential information disclosed by Ruehl to AM General and by AM General to Ruehl would "remain the property of [the] Disclosing Party[.]" "Confidential Information" was defined in the agreement as "[a]ny information that has value to the Disclosing Party and is not generally known to its competitors," and specifically included "ideas, concepts, plans,…drawings,…products, processes[.]" Moreover, the agreement stated, "Nothing contained in this Agreement shall be construed as granting or conferring to Receiving Party any patent rights or licenses from Disclosing Party either expressly or by implication[.]"
Following this agreement, Ruehl worked with AM General to provide engineering support services for the frame rail feasibility study. Ruehl was paid for this work pursuant to the February 2005 purchase order. Ruehl also provided additional engineering support services to AM General under an April 2005 purchase order. Ruehl contends that AM General never paid him or PC Ruehl for the transfer of ownership of Ruehl's Invention.
On November 1, 2005, Ruehl filed a patent application on the Invention, Provisional Patent Application No. 60/732,451. Ruehl followed that application with a non-provisional patent application, Patent Application Serial No. 11/279,321, on April 11, 2006.
AM General filed its own patent application on Ruehl's Invention, filing Provisional Patent Application Serial No. 60/764,045 on February 1, 2006, and non-provisional patent application Serial No. 11/670,217, on February 1, 2007.
On November 1, 2005, the day that Ruehl filed the provisional patent application, he informed AM General of the filing and of his expectation of receiving royalties for the use of his Invention. Conversely, AM General has purportedly advised Ruehl that it is AM General's position that Ruehl had an obligation to assign his rights in the Invention to AM General.
On July 16, 2013, the United States Patent and Trademark Office issued the '930 Patent to Ruehl. Ruehl now contends that AM General has incorporated Ruehl's Invention into the frame rail assembly it is now using for its Humvee which it is manufacturing and selling to the United States Military and to others.
At issue in this Indiana patent litigation are the following:
• Count I: Infringement of the '930 Patent, and
• Count II: Breach of Contract.
Ruehl and PC Ruehl, via patent counsel, ask the court for a judgment that AM General has directly infringed and continues to infringe the '903 Patent; damages, including treble damages; a judgment that AM General's infringement has been willful; an injunction enjoining AM General from infringing the '930 Patent; a declaration that this case is exceptional; costs and fees.
Practice Tip: The U.S. Patent and Trademark Office provides for the recordation of assignments of applications, patents, and registrations. The patent assignment abstract of title shows that an interest in this patent was assigned from Ruehl to AM General in 2008. In 2010, another assignment of this patent was executed from AM General to Ruehl. In 2011, an assignment from AM General to itself was filed to correct error. Finally, in 2013, a second assignment to correct error, this time to and from Ruehl, was executed.
The suit was filed by Martin W. Kus, and Matthew J. Hagenow of Newby Lewis Kaminski & Jones, LLP and Anthony Baish and Nicholas A. Kees of Godfrey & Kahn, S.C. The case was assigned to District Judge Joseph Van Bokkelen and Magistrate Judge John E. Martin in the Northern District of Indiana and assigned Case No. 3:14-cv-00317-JVB-JEM.