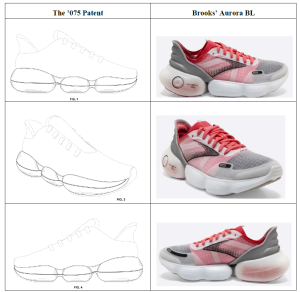 Indianapolis, Indiana – The Plaintiffs, PUMA SE and PUMA North America Inc. ("PUMA"), are world leaders in the sportswear industry.  PUMA SE, based in Herzogenaurach, Germany, is a multi-national company that designs and manufactures athletic and casual footwear, apparel, and accessories.  PUMA North America Inc. is a Delaware Corporation, with its principal place of business in Somerville, Massachusetts and is one of the top five sportswear brands in the world by revenue.
PUMA applied for a Federal Trademark registration under Application Serial No. 97171928 for the mark NITRO for footwear, namely, running shoes, training shoes, and basketball shoes.  According to the Complaint, in or around December 2021, PUMA requested the Defendant, Brooks Sports, Inc. ("Brooks") cease and desist the use of the Mark NITRO mark in connection with footwear. The parties were unable to reach a settlement.
PUMA also alleges that the Brooks shoe the "Aurora BL" infringes upon their Design Patent No. D897,075 and is being sold in connection with the infringing use of PUMA's NITRO mark.
Therefore, Plaintiff is seeking damages for willful trademark infringement in violation of 15 U.S.C. § 1114 and Design Patent Infringement in violation of 35 U.S.C. § § 271 and 283. Plaintiff also claims Defendants' actions amount to Unfair Competition in violation of 15 U.S.C. § 1125 and Trademark Infringement under Indiana Common Law. Plaintiff is requesting injunctions, treble damages, ill-gotten profits, reasonable attorneys' fees, and the costs and expenses of the suit.
The case was assigned to Judge Richard L. Young and Magistrate Matthew P. Brookman in the Southern District of Indiana and assigned Case No. 1:22-cv-01362-RLY-MPB.