Indianapolis, IN – A trademark infringement lawsuit filed in Hamilton County, Indiana Superior Court was removed to Southern District of Indiana. Trademark lawyers for Saeilo Enterprises, Inc. of Pearl River, New York had filed a trademark infringement lawsuit in the Hamilton County Superior Court alleging Scottwerx LLC of LaCrescenta, California infringed trademark registration no.2,885,628 for the mark TOMMY GUN which has been registered with the US Trademark Office.
The complaint alleges that Scottwerx has manufactured, produced and sold replica firearm kits that bear Saeilo's registered trademarks without authorization from Saeilo.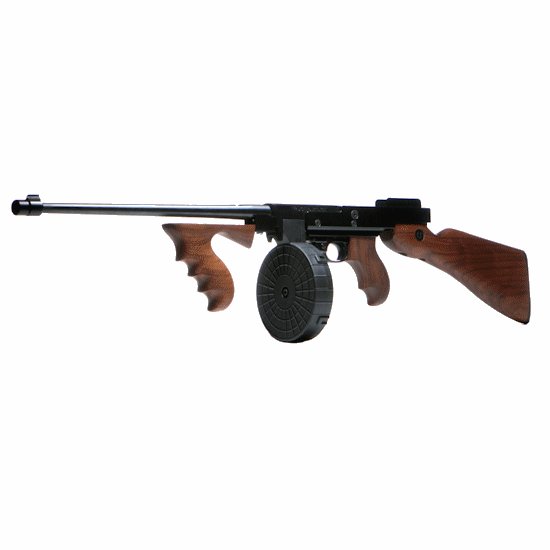 The complaint has attached a picture from Scottwerx's website of the allegedly infringing product. The complaint alleges Indiana courts have jurisdiction because Scottwerx offers the product for sale in Indiana. However, the complaint does not mention any specific sales in Indiana and only refers to Scottwerx's website. Saeilo's complaint asserts claims of federal trademark infringement, federal trademark dilution, false designation of origin, false advertising, trade dress infringement, common law trademark infringement, unfair competition, conversion, forgery, counterfeiting, and deception. The complaint seeks a permanent injunction, damages, treble damages, profits, attorney's fees and costs.
Practice Tip: Last month, Saeilo filed a very similar trademark infringement lawsuit  in Hamilton County that was also removed to federal court.  Indiana Intellectual Property Law News blogged about that case here.  That case alleged that Buzz Bee Toys infringed the same trademarks that are at issue in this lawsuit.   According to PACER, trademark attorneys have reached a settlement in the Buzz Bee case.  The terms of the settlement are undisclosed.
This case has been assigned to Judge Tanya Walton Prattand Magistrate Judge Debra McVicker Lynch in the Southern District of Indiana, and assigned Case No. 1:11-cv-00993-TWP-DML.
Further Information about the case is as follows:
Filed: July 26, 2011 as 1:2011cv00993 Updated: August 1, 2011 03:01:38
Plaintiff: SAEILO ENTERPRISES, INC.
Defendant: SCOTTWERX, LLC
Presiding Judge: Tanya Walton Pratt
Referring Judge: Mark J. Dinsmore
Cause Of Action: Fed. Question: Trademark
Court: Seventh Circuit > Indiana > Southern District Court
Type: Intellectual Property > Trademark