Indianapolis, Indiana – The Plaintiff, Thrivent Financial for Lutherans ("Thrivent"), is a fraternal benefits society established in 1902 with over 2 million members and over $100 billion in assets under management or advisement. Thrivent and its licensees offer a wide variety of services and products to their members and customers under the THRIVENT Trademarks (listed below), including insurance and annuity products, financial and business advising, mutual funds and investments, individual retirement accounts, trust accounts, financial advisory services, banking and credit union services, lending services, and debit and credit card services.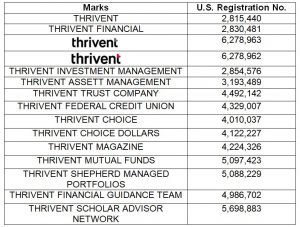 According to the Complaint, in or around March 2022, Thrivent requested the Defendant, PFJ Ventures LLC a/k/a Thrivant Consulting LLC, "PFJ Ventures" to cease and desist the use of the Mark THRIVANT mark in connection with financial services.  PFJ Ventures offers similar services as Thrivent, such as strategy & governance, financial oversight and finance services.
Therefore, Plaintiff is seeking damages for willful trademark infringement in violation of 15 U.S.C. § 1114. Plaintiff also claims Defendants' actions amount to unfair competition, false designation of origin, in violation of 15 U.S.C. § 1125 and Trademark Infringement under Indiana Common Law. Plaintiff is requesting injunctions, treble damages, ill-gotten profits, reasonable attorneys' fees, and the costs and expenses of the suit.
The case was assigned to Senior Judge Sarah Evans Barker and Magistrate Judge Mark J. Dinsmore in the Southern District of Indiana and assigned Case No. 1:22-cv-01248-SEB-MJD.