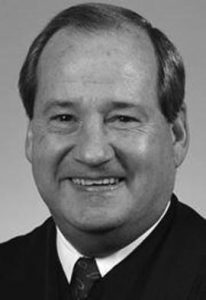 INDIANAPOLIS, Indiana (December 22, 2017):
More changes are coming to the United States District Court for the Southern District of Indiana, as District Judge William T. Lawrence has notified President Donald J. Trump of his intention to take senior status effective July 1, 2018.
Judge Lawrence will continue to render substantial judicial service as a senior judge. President Trump, with the guidance of Indiana's United States Senators Joseph S. Donnelly and Todd C. Young, will nominate Judge Lawrence's successor.
Judge Lawrence first joined the Court as a Magistrate Judge in November 2002. President George W. Bush, with the confirmation of the Senate, elevated Judge Lawrence to the position of District Judge on June 30, 2008, making him the first Magistrate Judge in the Southern District to become a District Judge. He filled the vacancy created by Judge John Daniel Tinder's elevation to the United States Court of Appeals for the Seventh Circuit.
Prior to being a Magistrate Judge, Judge Lawrence was the elected Judge of the Marion County Circuit Court from 1996 to 2002, after serving as a Master Commissioner there for over 13 years. He served as a major felony Public Defender in the Marion County Criminal Court for nine years. In 1980, Judge Lawrence was appointed Executive Director of Indiana's first Merit Selection Commission on Federal Judicial Appointments by Senator Richard Lugar.
Chief Judge Jane E. Magnus-Stinson remarked on behalf of the Court, "Judge Lawrence has served the citizens of the Southern District of Indiana with great dignity throughout his 35-year career in the law. The Court is grateful to him for his remarkable service as a Magistrate and District Judge. He is everything that litigants deserve to have in a judge: fair, patient, intelligent, and well-reasoned. While my fellow judges and I are sad to see Judge Lawrence begin to wind down his career, we are delighted that he will be staying on as a senior judge and continuing to serve our citizens and our Court."