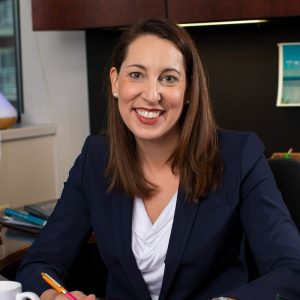 INDIANAPOLIS, Indiana – The Honorable Tanya Walton Pratt, Chief Judge of the United States District Court for the Southern District of Indiana, is pleased to announce the selection of Crystal S. Wildeman for the position of United States Magistrate Judge in the Evansville Division. Ms. Wildeman will fill the vacancy created by the recent elevation of the Honorable Matthew P. Brookman from Magistrate Judge to District Judge of the Southern District of Indiana.
A Magistrate Judge Merit Selection Committee, chaired by James D. Johnson of Jackson Kelly PLLC, and consisting of six other attorneys and two community members, reviewed numerous applications and recommended finalists for the position. The District Judges of the court interviewed the finalists and selected Ms. Wildeman.
Born in Evansville, Indiana, Ms. Wildeman is a 2003 graduate of Indiana University, Bloomington, Indiana, where she received Bachelor of Science and Bachelor of Arts degrees after double majoring in Psychology and Criminal Justice with a minor in Biology. In May 2006, Ms. Wildeman earned her law degree from DePaul College of Law in Chicago, Illinois. While in law school, Ms. Wildeman earned the Best Brief Award in DePaul's Moot Court Competition and then was elected to serve as the Chief Justice of the Moot Court Society. She also served as the Case Notes Editor for the DePaul College of Law Health Care Law Journal and worked as a Summer Associate/711 Licensed Student-Attorney with the Chicago Transit Authority.