Evansville, Indiana – Attorneys for Plaintiff, Baskin-Robbins Franchising LLC and BR IP Holder LLC (collectively "Baskin-Robbins"), both of Canton,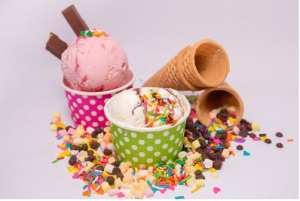 Massachusetts, filed suit in the Southern District of Indiana against Defendants, Radhakrishna LLC ("Radha") of Indianapolis, Indiana, Naik's, LLC ("Naik's") of Louisville, Kentucky, and Mukesh Naik, a citizen of Indiana (collectively "Defendants"), alleging breach of contract, trademark infringement, trade dress infringement, and unfair competition. Baskin-Robbins is seeking injunctive relief, judgment, including statutory damages, and attorneys' fees.
According to the Complaint, Baskin-Robbins, along with its franchisees, currently operate more than 7,800 shops worldwide and have been in business for over seventy years. BR IP Holder LLC claims to own numerous registrations for marks relating to "Baskin-Robbins" and derivations thereof, most of which are incontestable under 15 U.S.C. § 1065. Baskin-Robbins further claims that the public knows and recognizes their marks due to the extensive sales and marketing Baskin-Robbins has done while in business.
It is alleged that Mukesh Naik, individually, entered a franchise agreement for PC 361694 on or about September 14, 1998; Radha entered into a franchise agreement for PC 351607 on or about August 10, 2013; and Naik's entered into two franchise agreements for PC 353400 and PC 360506 in 2014 (collectively the "Franchise Agreements"). Each of the alleged Franchise Agreements were entered into between the Defendants and Baskin-Robbins Franchising LLC to operate Baskin-Robbins shops and each were allegedly personally guaranteed by Mukesh Naik. Baskin-Robbins claims that the Defendants defaulted under the Franchise Agreements and after three separate failures to cure their defaulting actions, were each sent a Notice of Termination. According to the Complaint, Defendants have continued using the Baskin-Robbins marks after the Notice of Termination was received by each Defendant, in breach of the Franchise Agreements.