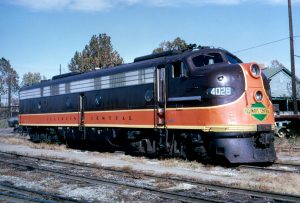 Crowne Point, Indiana – The Plaintiff, Illinois Central Railroad ("IC") filed suit against Defendant and former employee, Michael Belcher ("Belcher") for Breach of Contract, Breach of Duty of Loyalty, Civil Conversion, Indiana Uniform Trade Secrets Act, Defend Trade Secrets Act, and Trespass to Chattels.
Per the Plaintiff's website, IC is headquartered in Chicago, Illinois, and has been in business for 148 years. Its Slogan, "The Main Line of Mid-America," perfectly describes its unique north-south routing running from Chicago to the Gulf Coast.
According to the complaint, the Defendant, Michael Belcher ("Belcher") is a resident of Crown Point Indiana.  He was employed as a Senior Manager for IC for 20 years until he was terminated on October 19, 2022. Belcher's duties included writing software code for IC's financial data systems that included, but was not limited to, IC's systems for financial metrics, financial records, and compliance. Belcher served as the key point of contact for financial analysis, performance tracking, and corrective action related to Basic Capital budgets for all levels of Engineering management.  He also participated in IC's Share Units Plan and was awarded Performance Share Units ("PSUs").  Each time he was awarded PSUs, he received and accepted an award letter that contained a Confidentiality Clause. This prohibited him from revealing, disclosing or making known any Confidential Information without prior written consent from IC. Belcher also received regular training on the Company's Code of Business Conduct that requires every employee to safeguard Company assets and intellectual property. The Code of Conduct also contained provisions defining Company Confidential Information, and prohibitions against disclosure.
Prior to Belcher's termination, the Complaint alleges that he removed or stole source codes and files across three financial systems and replaced it with his own code that effectively disabled IC's systems. Belcher effectively created a digital mechanism that would allow him to have exclusive access to the Financial Systems and their data and functions. He then sent an email that demanded a ransom payment before restoring IC's access to their financial system. As a result, IC has lost many capabilities on its internal web pages, compliance control programs, and financial reporting for budgeting forecasting, and accruals.
Therefore, Plaintiff is seeking temporary, preliminary and permanent injunctive relief, compensatory, actual, and punitive damages, pre- and post-judgment interest and attorney fees, interest, costs and disbursements.
The case was assigned to Judge Damon R. Leichty and Magistrate Michael G. Gotsch, Sr. in the South Bend Division of the Northern District of Indiana and assigned Case 3:22-cv-00888-DRL-MGG.