Hammond, Indiana – Attorneys for Plaintiff, New Berry, Inc., d/b/a Berry Metal Company ("New Berry") of Harmony, Pennsylvania filed suit in the Northern District of Indiana alleging that Defendants, Todd G. Smith ("Smith") of Grove City, Pennsylvania, and Allan J. MacRae ("MacRae"), and MacRae Technologies, Inc.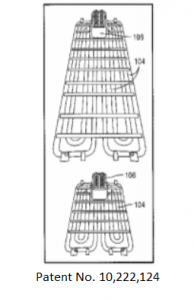 ("MacRae Technologies"), both of Hayward, California, infringed its rights in United States Patent No. 10,222,124 (the "'124 Patent") for "Stave with External Manifold" and United States Patent No. 9,121,076 (the "'076 Patent") for "Stave and Brick Constrictions Having Refactory Wear Monitors and in Process Thermocouples." New Berry is seeking actual, compensatory, exemplary, and punitive damages, pre and post judgment interest, and attorneys' fees.
According to the complaint, New Berry is the owner and assignee of both the '124 Patent, which was filed February 1, 2013 and issued on March 5, 2019, and the '076 Patent, which issued on September 1, 2015. New Berry claims that Smith signed an Employment Agreement with New Berry in 1996, which among other things assigned all of Smith's inventions during his employment to New Berry and prohibited Smith from using or disclosing any trade secrets that pertain to New Berry's products and services. Smith is listed as the inventor of the '124 Patent and a co-inventor of the '076 Patent.
New Berry claims that Smith, who left New Berry in 2015, is collaborating with MacRae and MacRae Technologies and has shared New Berry's trade secrets with them. MacRae filed a patent application November 16, 2017 that issued as U.S. Patent No. 9,963,754 (the "'754 Patent") on May 8, 2018. The complaint alleges MacRae assigned the '754 Patent to MacRae Technologies on March 6, 2019. New Berry claims that the "'124 Patent reads on the staves comprising center manifold technology described and claimed in the '754 Patent."