Washington, D.C. – The U.S. Marshals are currently auctioning approximately 4,711 bottles of wine, deemed authentic, that belonged to Rudy Kurniawan, the man convicted of fraud in federal court in 2013 for producing and selling millions of dollars of counterfeit wine.
The wine is being sold in two online auctions, one that started November 24 and one that started December 1 at www.txauction.com. The auctions close on December 8 and December 15, respectively.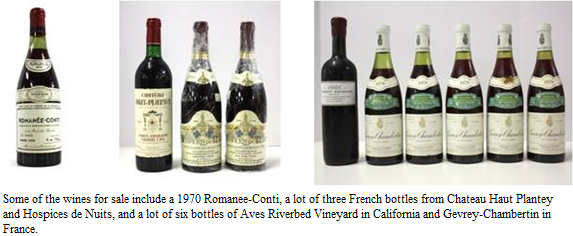 "It may sound ironic that we are selling wine that belonged to a convicted wine counterfeiter," said Assistant Program Manager Jason Martinez of the U.S. Marshals Service Asset Forfeiture Division, "but we are duty-bound to recoup as much value from the sale of these authentic wines as possible to compensate those who were victims of his fraud."
The wine was being stored by Kurniawan in a California wine storage facility. It is believed that much of it was destined to be used in the production of fake high-end wines in his now-infamous scheme. Some of the authenticated, high-value wines that Kurniawan stored at the facility are included in the auction. Net proceeds from the sale of the wine will be made available to the court to be returned to victims in the case.
The Marshals contracted for the wine authentication and appraisal. The contract was awarded to Stephanie Reeves, of Houston, who worked with a team that included Michael Egan of Bordeaux, France. Egan was involved in the Kurniawan federal court case as the principal expert witness for the prosecution at trial. Specifically, Egan inspected the bottles with the most risk of being counterfeit, and he uncovered a quantity of counterfeit bottles that were removed from the collection being sold.
Kurniawan, 39, was sentenced to 10 years in prison and is serving his sentence at Taft Correctional Institute in California.
The Department of Justice Asset Forfeiture Program is a key component of the federal government's law enforcement efforts to combat major criminal activity by disrupting and dismantling illegal enterprises, depriving criminals of the proceeds of illegal activity, deterring crime and restoring property to victims. The U.S. Marshals Service plays a critical role by efficiently managing and selling assets seized and forfeited by DOJ. Proceeds generated from asset sales are used to operate the Asset Forfeiture Program, compensate victims and support various law enforcement and community initiatives.
Practice Tip: For more information on the case, see:
www.fbi.gov/news/stories/2014/september/rare-wine-dealer-sentenced-in-counterfeiting-scheme
www.fbi.gov/newyork/press-releases/2014/prominent-wine-dealer-rudy-kurniawan-sentenced-in-manhattan-federal-court-to-10-years-in-prison-for-selling-millions-of-dollars-of-counterfeit-wine