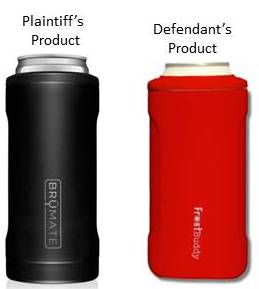 Indianapolis, Indiana – Apparently Brumate, LLC ("Brumate"), the Plaintiff, designs and sells insulated beverage containers, including an insulated tumbler/can holder, the HOPSULATOR®, and an insulated wine bottle, the WINESULATOR®. Brumate claims to have acquired trade dress rights in its HOPSULATOR® product design ("HOPSULATOR Trade Dress"). According to the Complaint, Frost Buddy, LLC ("Frost Buddy"), the Defendant, is selling a knockoff product that incorporates the HOPSULATOR Trade Dress. Brumate also claims Frost Buddy has engaged in deceptive advertising with regard to Brumate's HOPSULATOR® and WINESULATOR® products.
Brumate is seeking damages for trade dress infringement, false advertising, and unfair competition pursuant to 15 U.S.C. § 1125(a). Further, Brumate claims Frost Buddy committed deception in violation of I.C. § 35-43-5-3 and unfair competition under Indiana common law.
The case was assigned to District Judge Jane Magnus-Stinson and Magistrate Judge Tim A. Baker in the Southern District and assigned Case 1:20-cv-01981-JMS-TAB.