Indianapolis, Indiana – Attorneys for Plaintiff, Home Care Providers, Inc. and Dr. Dev A. Brar, of Indianapolis, Indiana filed suit in the Southern District of Indiana against Defendant, Shawn R. Bashore, of Carmel, Indiana. This suit was filed for inventorship of the United States Patent No. 9,668,328 ("the '328 Patent"), Night-Light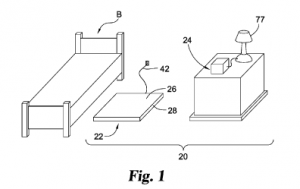 and Alert System, for constructive fraud, and conversion of the patent. Plaintiff is seeking declaratory judgment, lost profits, and reasonable costs and attorneys' fees.
The '328 Patent is for a system including a mat and a wirelessly-connected light, the purpose of which is to allow an individual to rise from bed and turn on the lights by stepping on the mat.
According to the complaint, Plaintiff alleges that Defendant, while overseeing development of the invention, represented himself as a co-inventor on the patent application, which violated provisions of the employment agreement requiring that all material created would belong to Plaintiff. Further, according to the complaint, Defendant has attempted to profit from licensing the invention.
Plaintiff also alleges that Defendant has refused to assign IP rights over to Plaintiff, despite making false representations that he had in fact signed the assignment documents. Plaintiff claims they have been injured by cloud of title to the patent, reduced ownership of the patent, and reduced ability to benefit from the patent.
The case was assigned to Senior Judge Sarah Evans Barker and Magistrate Judge Matthew P. Brookman in the Southern District and assigned Case 1:17-cv-03804-SEB-MPB.