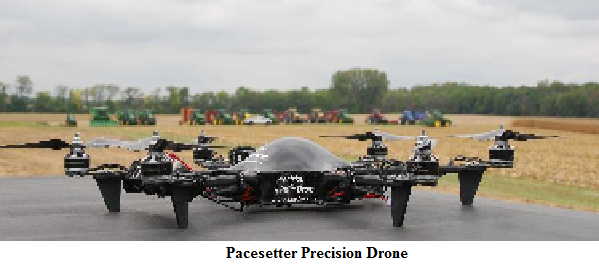 Indianapolis, Indiana – Indiana intellectual property lawyers for Precision Drone, LLC of Hamilton County, Indiana ("Precision") commenced trade secret litigation in Hamilton County Superior Court alleging that Channel Masters, LLC of Wisconsin ("Channel") breached its contract with Precision by improperly misappropriating and revealing trade secrets belonging to Precision.
Precision designs, engineers, manufactures and sells drones for use by farmers to monitor crops. It also develops and sells related software. Defendant Channel connects companies offering products to dealers of those products.
According to the complaint, in September 2014, Precision engaged Channel to sell the PaceSetter™ Drone to dealers of such products. To assist in Channel's sales efforts, Precision provided Channel with equipment and training, some of which Precision contends is protected by Indiana trade secret law. As part of the sales agreement that the parties entered into, Precision states that Channel was prohibited from disclosing any of Precision's confidential information without written authorization. The agreement also prohibited Channel from adversely interfering with Precision's customers and prospective customers.
Plaintiff Precision alleges that, while Channel was working for Precision, it was also promoting and selling crop-imaging drones offered by AgriImage, a company that competes with Precision. Plaintiff also contends that Channel used Plaintiff's images and training manual to demonstrate the competing AgriImage drones.
Precision claims copyright protection for the website that it uses to promote and advertise its products, as well as contending that at least one of its images was improperly displayed at a trade show by Channel, but the complaint listed no overt assertion of copyright infringement. The complaint, filed by Indiana intellectual property attorneys for Precision, instead alleges the following:
• Count I: Breach of Contract

• Count II: Misappropriation of Trade Secrets
Precision seeks judgment in its favor including damages, attorneys' fees and costs.
Indiana copyright lawyers for Channel have removed the case to the Southern District of Indiana, arguing that such a removal is proper based both on federal question jurisdiction and diversity of citizenship.
The case has been removed from the Hamilton County Superior Court to the Southern District of Indiana. The case was assigned to Judge Larry J. McKinney and Magistrate Judge Timothy A. Baker and assigned Case No. 1:15-cv-00476-LJM-TAB.