Fort Wayne, IN – Trademark lawyers for James Buchanan and J.B. Custom, Inc. of Huntertown, Indiana filed a trademark infringement suit in Allen County, Indiana Superior Court alleging Henry Repeating Arms Company of Bayonne, New Jersey infringed trademark registration no. 3645700 for the mark MARE'S LEG, registered with the US Trademark Office. On September 20, 2011, the case was removed to the Northern District of Indiana upon motion of trademark attorneys for Henry Repeating Arms Company.
According to the complaint, J.B. Custom owns trade dress rights to unique shapes, designs, and appearances of certain pistols designs, including the "Mare's Leg"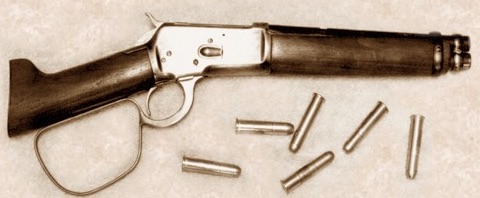 lever-action pistol. J.B. Custom advertises the Mare's Leg pistol design using unique likenesses of Mr. James Buchanan in cowboy attire, including on its website www.maresleg.com. The complaint alleges that Henry's 2011 catalog included advertisement for a product called "Henry's Mare's Leg." The product advertisement also appeared on Henry's website. The complaint alleges the Henry's Mare's Leg is virtually identical and confusingly similar to J.B. Custom's product. The complaint also states that Henry has used Mr. Buchanan's likeness in advertising the Henry's Mare's Leg. Trademark attorneys have made claims of misuse of publicity right relating to the unauthorized use of Mr. Buchanan's likeness, trade dress infringement, false designation of origin, passing off, false advertising and unfair competition.
Practice Tip: In addition to trademark and trade dress claims, which are covered by the federal Lanham Act, the plaintiffs have made a claim under Indiana's Right of Publicity law because the defendant has alleged used Mr. Buchanan's likeness in advertisements without Mr. Buchanan's permission. Indiana Intellectual Property Law News blogged about Indiana's unique right to publicity law here. The right of publicity protects the right to control the commercial use of a person's identity.

This case has been assigned to Theresa L Springmann and Roger B Cosbey in the Northern District of Indiana, and assigned Case No. 1:11-cv-00332-TLS -RBC.Complaint
Further Information about the case is as follows:
Filed: September 20, 2011 as 1:2011cv00332 Updated: September 21, 2011 05:02:13
Plaintiffs: James Buchanan and JB Custom Inc
Defendant: Henry Repeating Arms Company
Presiding Judge: Theresa L Springmann
Referring Judge: Roger B Cosbey
Cause Of Action: Trademark Infringement
Court: Seventh Circuit > Indiana > Northern District CourtType:Intellectual Property > Trademark