This case, originally filed in the United States District Court for the Eastern District of Michigan on claims of patent infringement, was brought on appeal in the United States Court of Appeals for the Federal Circuit. The Court of Appeals issued an opinion affirming the district court's summary judgment in favor of Defendant-Appellee, Ford Global Technologies, LLC ("Ford"), and against Plaintiff-Appellant, Automotive Body Parts Association ("Automotive"). The originally sealed opinion was issued on July 11, 2019 but was unsealed in full on July 23, 2019.
Ford owns U.S. Patent No. D489,299 (the "D'299 Patent") and U.S. Patent No. D501,685 (the "D'685 Patent") for "Exterior of Vehicle Hood"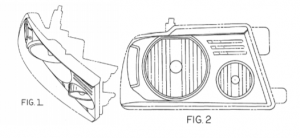 and "Vehicle Head Lamp", respectively. These design patents were invented by artists that allegedly selected part designs for the Ford F-150 truck on based on aesthetic appearance alone and not a functional purpose. Automotive is comprised of a group of companies that distribute automotive parts.
Conflict between Automotive and Ford allegedly occurred when Ford accused several Automotive members of infringing the D'299 and D'685 Patents, among others, before the International Trade Commission ("ITC"). The administrative law judge in the ITC proceedings ruled that "'respondents' [invalidity] defense that the asserted patents do not comply with the ornamentality requirement of 35 U.S.C. § 171 has no basis in the law' and that 'there is no legal basis for respondents' assertion of [unenforceability based on] either the patent exhaustion or permissible repair doctrines'". The ITC action settled after the administrative law judge's ruling.
After the ITC action, Automotive, seeking a declaratory judgment of unenforceability or invalidity of the D'299 and D'685 Patents, sued Ford in district court. The district court denied Automotive's motion for summary judgment and announced it intended to enter judgment in favor of Ford sua sponte pursuant to Federal Rule of Civil Procedure 56(f)(1). Automotive did not object to the entry of final judgment in favor of Ford so it could file a notice of appeal.
While on appeal, Automotive argued the D'299 and D'685 Patents "are functional because they aesthetically match the F-150 truck". The Court of Appeals could not find any case supporting that theory and held that "in this context of a consumer preference for a particular design to match other parts of a whole, the aesthetic appeal of a design to consumers is inadequate to render that design functional." Automotive further argued the principle of "aesthetic functionality" from trademark law should be applied in design patent cases, however, the Court declined to apply the principle in this case.
Automotive then argued that under the related doctrines of exhaustion and repair, Ford's patents are unenforceable against its members. Patent exhaustion occurs when an authorized sale is completed that compensates a patentee for their invention, which "exhausts" the patentee's right to control the use and further sale of that article. Here, the authorized sale occurs between the consumer and Ford, not the consumer and Automotive. Automotive's right of repair argument was also shut down by the Court as it failed to consider a purchaser cannot recreate a patented product. The Court held that Automotive did not show "that Ford's designs for an F-150 hood and headlamp are exhausted when Ford sells an F-150 truck." Therefore, the Court affirmed the district court's judgment with costs being awarded to Ford.