Indianapolis, Indiana – Attorneys for Plaintiff, Thrush Co., Inc. of Peru, Indiana filed suit in the Southern District of Indiana alleging that Defendant, Wessels Company of Greenwood, Indiana infringed its rights in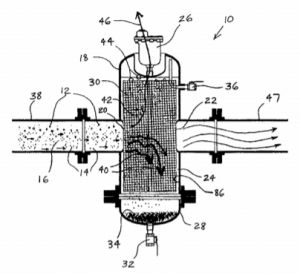 United States Patent No. 8,177,975 ("the '975 Patent") for "Apparatus for Removing Air and/or Debris from a Flow of Liquid". Plaintiff is seeking judgment, ascertainable damages, reasonable attorneys' fees, and injunctive relief.
Plaintiff is an Indiana corporation that owns the rights to the '975 Patent. The patent describes a device that filters air and debris out of liquid flowing through a pipe. Plaintiff sells the device throughout the country and Indiana.