Hammond, Indiana – The Northern District of Indiana, South Bend Division, issued its Opinion and Order denying a Motion for Preliminary Injunction in the case of Furrion Property Holding Limited, and Furrion Limited (collectively "Furrion") versus Way Interglobal Network, LLC ("Way Interglobal"). This case was filed by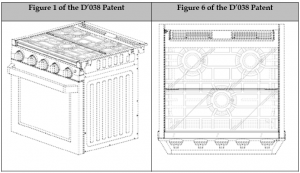 Furrion in July 2019 alleging Way Interglobal's oven infringed Furrion's 2 in 1 Range Oven. Furrion then moved for a preliminary injunction, barring any further sales of the allegedly infringing product until the lawsuit was decided. The Court held Furrion "failed to meet its burden of showing irreparable harm", and therefore denied the Motion for a Preliminary Injunction.
Furrion, as evidence of intentional copying and infringement, claims the user manual produced by Way Interglobal utilizes identical language to Furrion's manual. While that could be an exceptional coincidence, Judge Simon found the images included in Way Interglobal's manual included images of Furrion's 2 in 1 Range Oven including Furrion's trademarked logo. Way Interglobal's CEO and president, Wayne Kaylor, testified that he was unaware of the similarities in the user manuals and speculated that the Chinese manufacturer who writes the user manual may have taken a shortcut when preparing the manual. Kaylor further testified that Way Interglobal had heard rumors that Furrion was alleging Way Interglobal's range oven infringed Furrion's patents in or around July 2018 and that "Way Interglobal changed the metal grate of its gas range to distinguish it from Furrion's" without admitting any infringement.
To find in favor of Furrion's motion for preliminary injunction, Furrion must show "(1) a likelihood of success on the merits . . . ; (2) a likelihood of irreparable harm if the injunction is not granted; (3) the balance of hardships between the parties favors an injunction; and (4) the public interest likewise favors an injunction." PHG Techs., LLC v. St. John Companies, Inc., 469 F.3d 1361, 1365 (Fed. Cir. 2006). "[I]f the moving party fails to clear the likelihood of success and irreparable harm hurdles, 'a court's inquiry is over and the injunction must be denied" in the Seventh Circuit. Abbott Labs v. Mead Johnson & Co., 971 F.2d 6, 11 (7th Cir. 1992). However, if the moving party shows all four elements, the court weighs he factors in deciding whether to grant the injunction.