Indianapolis, Indiana – Attorneys for Plaintiff, Dexas International, LTD., of Coppel, Texas filed suit in the Southern District of Indiana alleging that Defendant, Menard, Inc., of Eau Claire, Wisconsin infringed its rights in United States Patent No. D563,739 ("the '739 Patent")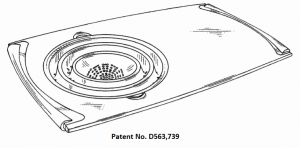 for "Cutting Board With Snap-In Pop Strainer". Plaintiff is seeking an injunction, lost profits, pre-judgment and post-judgment interest, attorneys' fees, and destruction of infringing items.
Plaintiff is a Texas-based corporation specializing in manufacturing kitchen gadgets and pet care items. Defendant is a Wisconsin-based corporation that owns and operates large-scale hardware and home improvement stores across the country.