Celina, Texas – Plaintiff, Nickels and Dimes Incorporated is suing LaPorte, Indiana company, Noah's Arcade, LLC d/b/a Full Tilt, for infringement of its federally registered trademark TILT, in association with arcade, amusement, and entertainment services, under Section 32(1) of the Lanham Act, 15 U.S.C. § 1114(1).
According to the complaint, Plaintiff Nickels and Dimes opened their first TILT arcade in 1977, inside the Six Flags Mall, in Arlington, TX, and has since owned and operated 200 TILT arcades in the U.S.  Nick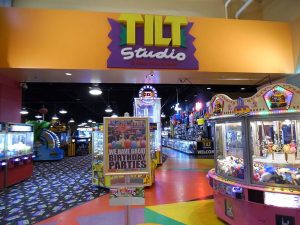 els and Dimes states that it then began using the Trademark TILT STUDIO in 2010, and the TILTED 10 Trademark in 2021, in association with arcade games and indoor entertainment.
The Defendant, Noah's Arcade, allegedly opened their arcade in 2022 under the mark FULL TILT and has been accused of using the mark in their marketing and advertising, to which the Plaintiff claims infringement of their trademarks TILT, TILT STUDIO, and TILTED 10.  The Plaintiff argues that the products sold under Noah's FULL TILT mark are identical or highly similar to those that Nickels and Dimes sell under their trademarks.  In addition, the Plaintiff contends that Noah's Domain Name is similar to Plaintiff's TILT STUDIO and TILTED 10 marks, which could potentially cause confusion among the customer base who may assume an affiliation between the two entities.
On June 22, 2023, Nickels and Dimes allegedly sent a cease-and-desist letter to Noah's Arcade, with which the Plaintiff claims the Defendants refused to comply. Having successfully enforced its TILT and TILT STUDIO Trademarks in previous lawsuits, Nickels and Dimes filed suit against Noah's Arcade. According to the filing, the Plaintiff is claiming Federal Trademark Infringement, Federal Unfair Competition, Cybersquatting, and Common Law Unfair Competition.
The Plaintiff is seeking an injunction preventing Noah's Arcade from marketing, advertising, selling or promoting arcade services and activities using the mark FULL TILT, monetary damages in a sum of up to three times the amount of its damages, maximum statutory damages in the amount of $100,000 for cybersquatting, and an order that all profits received in relation to the alleged infringed mark be turned over to Nickels and Dimes.
This case has been assigned to Judge Damon R. Leichty and Magistrate Judge Michael G. Gotsch, Sr., in the U.S. District Court of Northern Indiana, and assigned Case No. 3:23-cv-00699-DRL-MGG.