Indianapolis, Indiana  – Stone Basket Innovations, LLC of Austin, Texas, filed a patent infringement lawsuit in the Eastern District of Texas which was transferred to the Southern District of Indiana alleging that Cook Medical, LLC of Bloomington, Indiana, infringed Patent No. 6,551,327 ("'327 Patent"), Endoscopic Stone Extraction Device with Improved Basket, issued by the US Patent Office.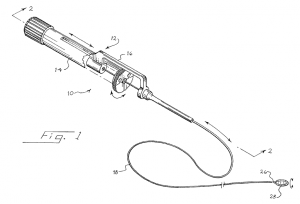 The initial Complaint for this case was filed on April 8, 2015. Defendant served their invalidity contentions in October 2015 and deposed the '327 patent's inventor in January of 2016. During the deposition, the inventor stated in regards to an addition to overcome an examiner's rejection, "I realize there is nothing novel about it." Defendant then petitioned the U.S. Patent and Trademark Office for inter partes review (IPR) of all the claims. The District Court case was stayed pending the outcome of the petition for an IPR based off a joint motion.
After the IPR was instituted in September 2016, Plaintiff offered to license the '327 patent to Defendant for $150,000.00. Negotiations fell through and the settlement did not occur. Plaintiff then filed a motion requesting an adverse judgment in the IPR proceeding in December 2016 and moved to dismiss the District Court case with prejudice, both of which were granted.