March 12, 2014
Washington, D.C. - An issue in the patent infringement dispute between medical-device giant Medtronic, Inc. and Mirowski Family Ventures, LLC ("Mirowski") was heard by the United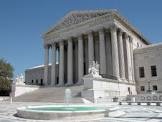 States Supreme Court. In question was the placement of the burden of proof in patent infringement litigation that seeks a declaratory judgment. The Supreme Court reversed the U.S. Court of Appeals for the Federal Circuit, holding that the burden of proof of infringement rests with the patent holder even if the lawsuit is filed under the Declaratory Judgment Act.
After hearing arguments by patent attorneys for each side, the district court had held that Mirowski, the party asserting infringement, had the burden of proving patent infringement; it found that Mirowski had not met that burden.
The Federal Circuit reversed. It concluded that, when a patentee (Mirowski) is a declaratory judgment defendant and is also prevented from asserting an infringement counterclaim by the existence of a license between the parties - as Mirowski was - the party seeking the declaratory judgment (Medtronic) bears the burden of proving that it had not infringed the patent.
The Supreme Court granted certiorari. The question before the Court was "whether the burden of proof shifts when the patentee is a defendant in a declaratory judgment action, and the plaintiff (the potential infringer) seeks a judgment that he does not infringe the patent."
Mirowski argued that it would be unfair to place a burden of proof on the party that was not seeking relief. The Intellectual Property Owners Association supported Mirowski's position, contending that a failure to shift the burden of proof in such cases would lead to abuse of declaratory judgment actions, as the risks and burdens of patent infringement litigation would be placed entirely on the patent owner.
In contrast, Medtronic argued that placing the burden on a licensee would create an unacceptable choice between finality and fairness, as it would require the judicial system to permit a party to relitigate issues that had been previously decided under a different burden of proof.
The Supreme Court reversed the shifted burden of proof imposed by the Federal Circuit. The Court declared that it saw "no convincing reason why burden of proof law should favor the patentee" simply because it was filed under the Declaratory Judgment Act.
Practice Tip #1: It is settled law that, in patent infringement litigation, a patentee normally bears the burden of proof. Because 1) the operation of the Declaratory Judgment Act is only procedural and leaves substantive rights unchanged and 2) the burden of proof is a substantive aspect of a claim, this holding by the Supreme Court is not unanticipated.
Practice Tip #2: When drafting the terms of a license, patent owners should consider adding provisions to deter potential challenges by licensees.
Practice Tip #3: We have also blogged recently about another declaratory judgment case involving Mirowski, which is being heard in the Southern District of Indiana.

Continue reading "Supreme Court Reverses Federal Circuit on Burden of Proof in Patent Infringement Litigation Brought Under the Declaratory Judgment Act" »