Indianapolis, Indiana – Attorneys for Plaintiff, Terry Champ of Jackson County, Indiana filed suit in the Southern District of Indiana alleging that Defendant, The City of Seymour of Jackson County, Indiana infringed a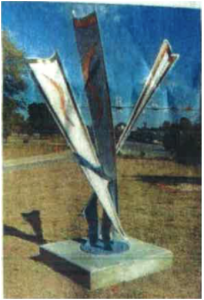 work of visual art under the Visual Artists Rights Act ("VARA"). Plaintiff is seeking judgment in the amount of $150.000, attorney's fees, and other relief the Court deems appropriate.
In 2010, Plaintiff completed a 9-foot tall sculpture named Trinity, meant to symbolize the Holy Trinity in Christianity. The sculpture contains steel beams and a combination of gold and silver paint. The sculpture was sponsored by the city of Seymour, as part of an initiative to enhance various spots around town with artwork.
Trinity was loaned to the city and then displayed at an intersection in town, until a member of the Department of Public Works requested it be removed. The sculpture was removed and stored in a garage, where Plaintiff eventually found it laying on its side in the gravel. According to the complaint, the sculpture was damaged all over with scratches and gouges in the steel and bent parts.