Chicago, Illinois – The United States Court of Appeals for the Seventh Circuit affirmed the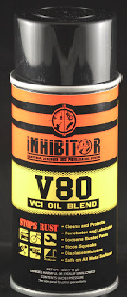 ruling of the United States District Court for the Northern District of Illinois, Western Division in the matter of Sorenson v. WD-40 Company, holding that WD-40's use of "inhibitor" and a crosshair graphic on its product labels did not constitute trademark infringement.
Plaintiff Jeffrey Sorensen founded and is the CEO of a company that produces a line of rust-inhibiting products, which were first sold in 1997. These products contain a substance called volatile corrosion inhibitor ("VCI"). Sorenson owns a federally registered trademark – THE INHIBITOR – for this line of products. He also claims common-law trademark rights to an orange-and-black crosshair design mark that is associated with these products.